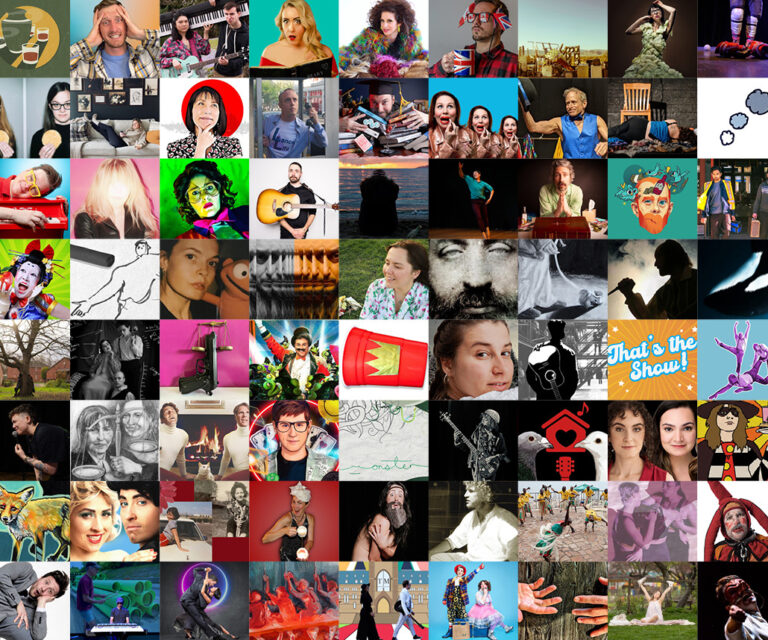 Pushing the limits of performing arts in true Fringe fashion, the internationally-renowned Vancouver Fringe returns with 85+ blistering new acts as part of its 2023 Festival from September 7 – 17.
From emerging local artists to trailblazing talent from all across the Canadian Fringe circuit, this year will see more theatre, comedy, dance, drag, spoken word and music than ever before as Vancouver's perennial performing arts fest gears up for its 40th Anniversary in 2024.
Based once again within the creative hub of Granville Island, Vancouver Fringe is thrilled to strengthen its ongoing partnership with CMHC, who steward the land on which Granville Island and all its cultural venues are located. Familiar to the most avid Fringe fans, returning venues from 2022 include Arts Umbrella, Carousel Theatre, The NEST, Performance Works, Revue Stage and Waterfront Theatre, complemented by an exciting foray into Ballet BC – with Vancouver Fringe being among the first to present work in their state-of-the-art studio spaces following the company's much-anticipated move to Granville Island in May 2023.
Bursting out into the local surrounds with its super-sized program, expect further Fringe antics in venues such as Pacific Theatre, Leap Creative Studios and Studio 16, not to forget the Festival's robust online selection for audiences to watch anywhere, anytime from their own personal device.
Highlights include jaw-dropping dramas from the likes of Direct Theatre Collective (MONSTER), Concrete Drops Theatre (Long Night of the American Dream) and Steel Wolf (TrudeauMania), gut-busting comedy from Candy Roberts (LARRY), Monster Theatre/RibbitRePublic (THE FOOL) and Ragmop Theatre (UNDERBELLY), and death-defying dance from PointTango (Tango in the Dark), Club Culturel Inkinzo (Agasimbo) and PUSH Physical Theatre (Generic Male).
Enhancing the Fringe experience for one and all is the ever-bustling Fringe Bar, which continues to serve as a meeting ground for artists and audiences alike. Nightly entertainment – team trivia and/or devilish drag, anyone?! – and live music from the likes of Balkan Shmalkan, DJ O Show and The Wavebirds will be taking over the space, with food trucks galore from some of Vancouver's hottest vendors.
Kicking it all off is the Festival's inaugural Fringe4All – YOUR chance to catch the Festival's many artists in action – with further special events including Cameryn Moore's infamous Smut Slam (not for the faint of heart), a screening of Cory Thibert & Nancy Kenny's award-winning documentary On The Fringe and the Festival's unabashedly bonkers closing party, the Cabaret of Bulls#!t.
Sharing his excitement for the festivities ahead, Vancouver Fringe's Executive Director, Duncan-Watts Grant said:
"This year, our focus is on a renewed commitment to the outstanding artists who breathe life into our Festival. Our team has set our gaze on a dual mission; we are celebrating the amazing talent who continue to inspire us, and rebuilding the foundations that support our artistic community.
We are so thrilled to be here continuing our efforts to rebuild as we adapt to new challenges facing the arts, and are overjoyed to welcome artists, volunteers, and audiences back to Vancouver Fringe this September. For 11 glorious days we are gathering to tell stories and, together, experience groundbreaking performing arts.
Every line delivered, every note struck, and every movement embodies our vision for the incredible artists of the Fringe."
Tickets for the 2023 Festival will be on sale from Thursday August 24, with Priority Booking available to all Friends of Vancouver Fringe (donors of $120+ per annum or a $10 monthly commitment) as of now.
Visit our What's On page for this year's full vibrant line-up.