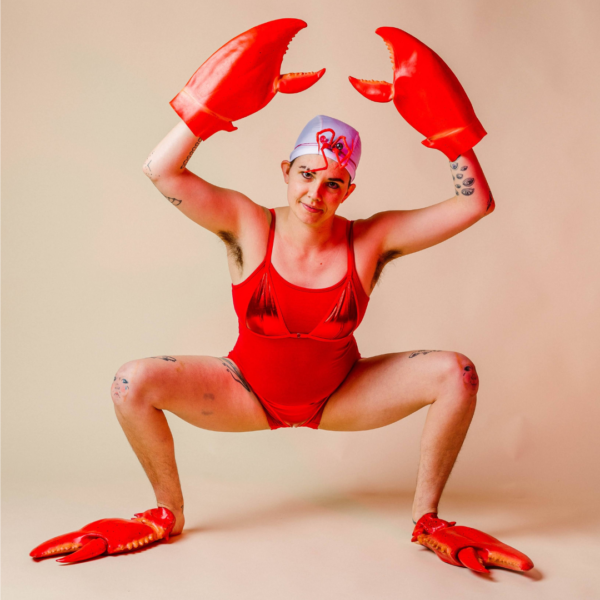 Seasoned comedian tickles your funny bone with quirky new show about the horrors and delights of having a skeleton.

Excitement is in the air at the Vancouver Fringe Festival! We're thrilled to announce that we're presenting the wildly entertaining ANATOMICA this December 1st & 2nd, at the NEST Theatre.
After a decade of working as one half of the beloved Portland, OR based acrobatic physical comedy duo, A Little Bit Off, Amica Hunter (they/them) brings their first full length solo work – ANATOMICA: A Comedy About Meat, Bones, & The Skin You're In, to Vancouver.  Amica is a queer, nonbinary, multidisciplinary artist and performer who has been devising, performing, and producing shows since 2012. They create unique, adaptable live experiences that feel raw, intimate, absurd, and playful. 
The show features a guided meditation from the perspective of a worm, a slew of scientific facts about a variety of animals, a butt-faced crab (you'll just have to come to find out), and communication with the audience via a long plastic tube. Part stand up, part story-telling, and part clown, Anatomica is a hilarious, captivating, and sometimes-unsettling comedy about Amica's personal experience living with chronic pain, as well as the pros and cons of the different skeletal systems found in nature. With candidness and a comfortably casual tone, Amica reviews the three skeletal systems found in earthly organisms, and discusses the limitations of each one. What would it be like to inhabit a body completely alien from our classic human form? 
We had the pleasure of chatting with Amica about their inspirations for the show and how the Fringe world has helped them grow as an artist.
Tell us more about your show. How did it come to be?
I had been creating, producing, performing, and touring as part of a duo company (A Little Bit Off) for about ten years, and this was my first foray into creating a solo show and hitting the Fringe circuit by myself. It was very intimidating at first, but also very liberating. When I started making this show, I wasn't entirely sure what it was about, or why I was making it, only that I was intensely interested in the subject matter and excited to get an audience interested in it as well. Without wanting to give too much away, I'll just say this: Anatomica is a show based around a simple question. What would it be like to inhabit a radically different body than the one you are in? How would it feel to exist as an animal that seems incomprehensibly alien to our human experience? Would it be better? Worse? The same? This show is an exercise in coming to terms with chronic pain through escapism and collective imagination – a topic that may sound heavy, but I approach it in a lighthearted conversational way with absurd and whimsical humor, so it ends up seeming like more of a strange and silly scientific field trip.
How has the Fringe circuit helped you grow artistically, or how has it helped your career as an artist?
After I graduated clown school, formed my company, and we tried our hand doing street shows, my performance partner (David Cantor) and I realized that we needed a different setting for the type of art we wanted to create. We performed in our first Fringe in 2014, and it felt like the right place for what we were doing. Since then, the Fringe circuit has been our main focus, and it has helped us craft and season four physical comedy shows  – Beau & Aero, Bella Culpa, Bad Habits, and A Grave Mistake. We owe so much to the Fringe, and it truly feels like home to us. Now, as a solo artist, I feel very supported by all of my Fringe friends and old favorite tour spots, as I explore new territory artistically.
What are you most looking forward to about bringing the show to Vancouver?

I haven't performed in Vancouver in many years, and am very excited to be back. It's a beautiful city, and not only am I thrilled to be bringing my show, I am also very excited to catch up with some old friends who I've met on the Fringe circuit, and eat some delicious food! I am so very excited to have added another show. It's truly a dream come true! Huge thanks to my buddies Mind of A Snail for encouraging me to come up and do this. I love the way Fringe artists are always helping and elevating each other.
Have you got your tickets yet? The December 2nd show is now sold out, so act fast to secure your seat!