Get to know our participating venues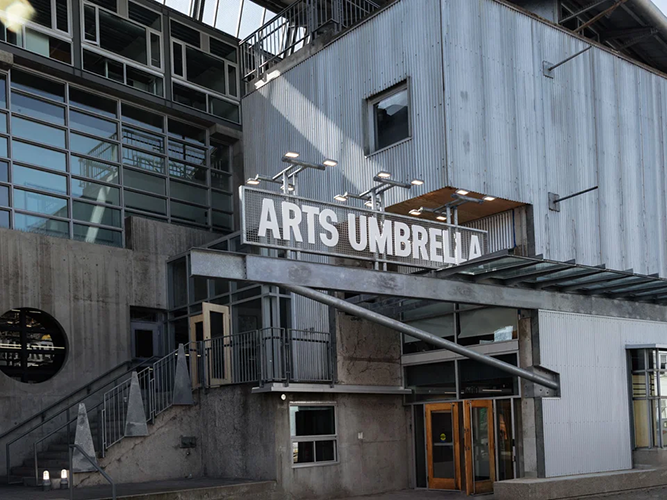 1400 Johnston St, V6H 3S1
Arts Umbrella is an arts education non-profit where where young artists ages 2–22 cultivate their creativity in Art, Design, Dance, Theatre, Music & Film. Its state-of-the-art 50,000 net-square-foot arts education centre on Granville Island houses ten visual arts studios, ten dance and theatre studios, a photography darkroom, a media arts hub, and a 132-seat theatre.
The venue is fully access-friendly with nearby parking available. Shows take place on the second floor, accessed by an elevator. Accessible washrooms are also close by.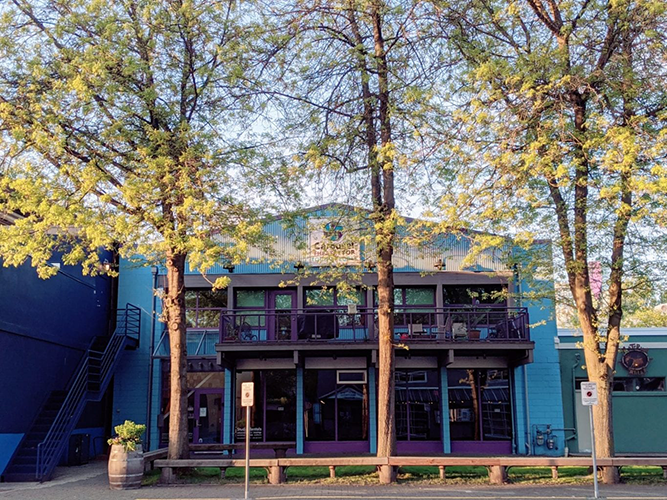 1411 Cartwright St, V6H 3R7
Carousel Theatre for Young People provides playful, exceptional, and accessible experiences that inspire, involve, and educate. Each year 40,000 young people and families benefit from CTYP's extensive program, which includes a season of mainstage programming for young audiences, the BEE Stage for the Very Young, a year-round drama school for young people ages 3-17, and the Teen Shakespeare Program.
Chairs can be removed from the front row of this venue, and we advise arriving early in order for us to make suitable access arrangements. The hallway to the theatre is narrow, and there may be a sharp turn for large mobility aids entering the theatre, however the venue has not encountered issues with this in the past. Washrooms are also wheelchair accessible.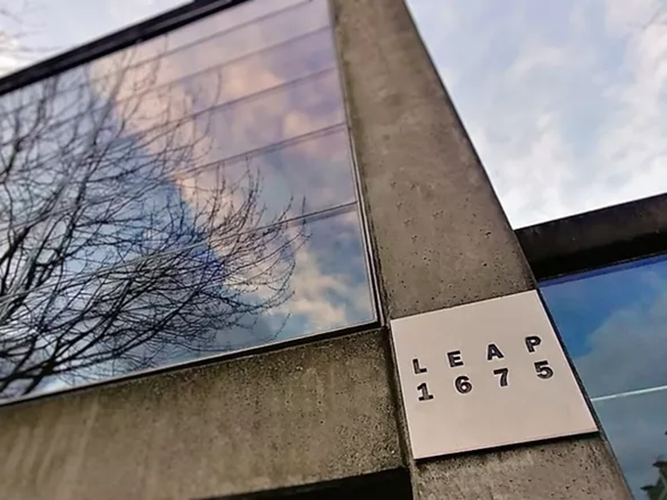 1675 West 2nd Ave, V6J 1H3
Leap Creative Studios offer a state-of-the-art cross-media design studio with over 4,000 square feet of soundstage and post-production facilities. Working primarily on film and television productions, Leap Creative Studios will be helping make live-streaming a reality for this year's Vancouver Fringe Festival.
The venue is located a 10-minute walk from Granville Island and is fully accessible on a ground floor setting. An accessible washroom is available within the building. Metered parking is also available on the street, but we recommend arriving early to secure a nearby spot.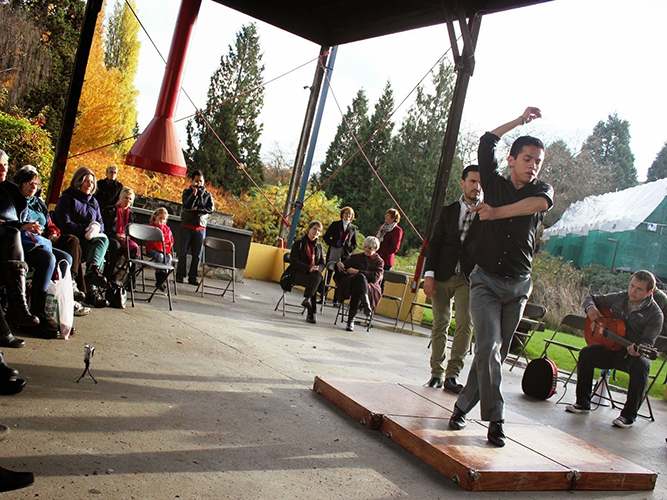 Granville Island Picnic Pavilion
The Picnic Pavilion is a covered area located near the entrance to Granville Island beside the pond. This outdoor space is a popular location for barbeques, family gatherings, school groups, and non-profit community group celebrations.
This outdoor space is fully accessible with nearby parking available. A tarpaulin will cover the pavilion in the event of rain. The nearest accessible washrooms reside within the Kids Market. Please note the Picnic Pavilion is an alcohol-free location.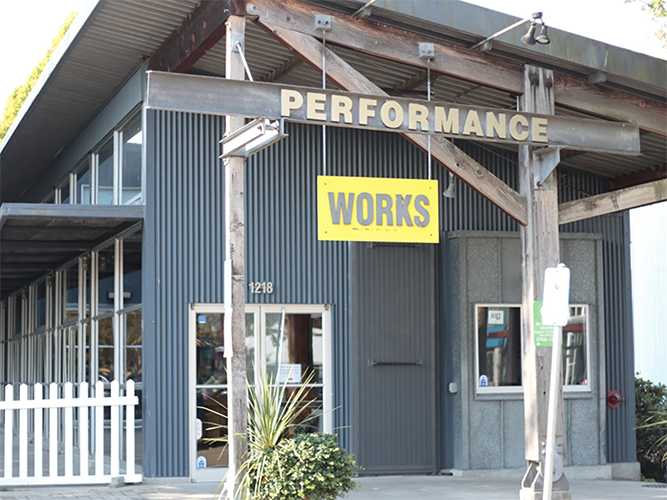 1218 Cartwright St, V6H 3R8
Originally a machine shop in the 1920s, Performance Works opened in 1992 with a mandate to provide the arts community with a permanent rehearsal and performance venue. Owned by CMHC-Granville Island and managed by the Granville Island Theatre District, Performance Works is a flexible black box theatre space booked by many of Vancouver's most exciting performance events and productions.
This venue is fully accessible, absent of steps or ramps. The washrooms are accessible, though the corridor to the men's washroom is narrow. Both washrooms involve a sharp turn, and there are no mechanical switches to operate the washroom doors. The floor is made out of concrete so it may be slippery when wet. Accessible parking is located adjacent to the front door of this venue.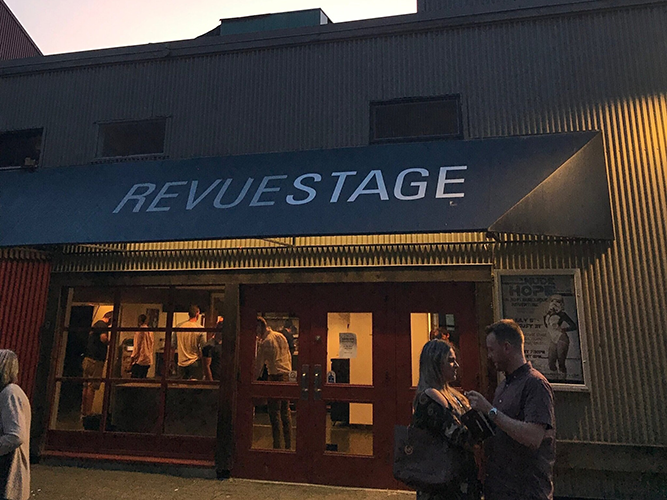 1601 Johnston St, V6H 3R9
The Revue Stage is managed by the Red Gate Arts Society, founded out of a collective desire to create a permanent home for DIY experimental art, music, and culture in Vancouver. Steady progress toward this goal has been achieved entirely through the efforts of the many members, volunteers and organizers who contribute their services to the theatre, as well as the wider community of artists, musicians, and supporters who continue to organize, perform, and attended its ongoing program.
The theatre, bathrooms and lobby are all accessible, absent of steps or ramps. Wheelchair seating can be found in the front row of the theatre, inside the doors. Nearby parking can be found on Granville Island.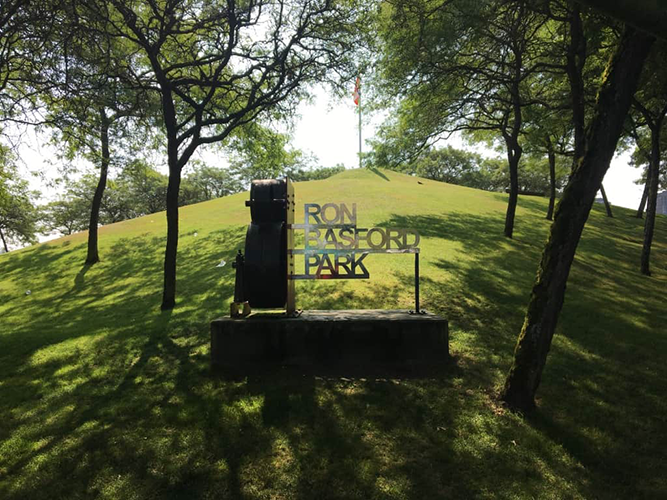 Ron Basford Park occupies the southeastern corner of Granville Island, between Performance Works and the Granville Island Hotel. In the summer, the park's amphitheatre hosts Carousel Theatre's Teen Shakespeare performances.
This outdoor space is fully accessible with nearby parking available. The nearest accessible washrooms reside next to the Splash Park. Please note that Ron Basford Park is an alcohol-free location.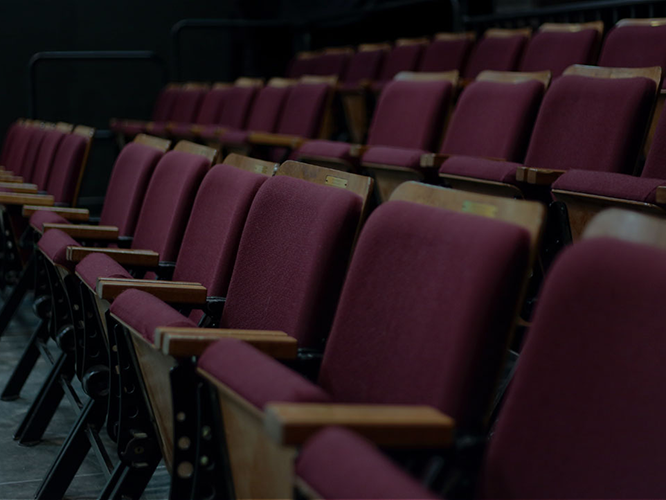 A few minutes from downtown, Kitsilano and False Creek, Studio 16 is the Performing and Multipurpose Hall of La Maison de la Francophonie de Vancouver. Studio 16's mission is to encourage community participation and opportunities for the arts, culture and multiculturalism to flourish in a venue that provides them with a place to create and a place to connect.
This venue is fully accessible, including the washrooms. The wheelchair entrance is through the front doors, with wheelchair seating in the front row. There are no designated parking spots, but there is plenty of street parking available in the near vicinity.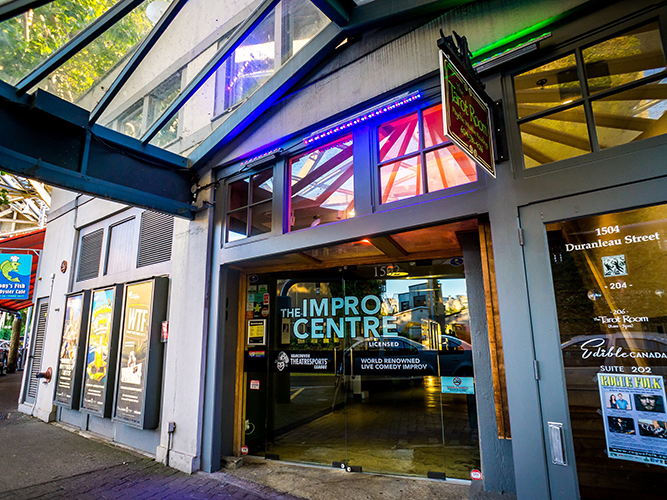 1502 Duranleau St, V6H 3S4
The Improv Centre was founded to promote, develop, maintain and present improvisational theatre productions and presentations to local and visiting audiences in Vancouver. The Improv Centre office and 186 seat theatre are located on Vancouver's Granville Island. Each year, over 60,000 audience members, artists and students enjoy this theatre's productions.
This venue is completely accessible. The majority of the theatre is raked seats with stairs, but there are plenty of floor seats that can be moved to accommodate a patron in a wheelchair as well. Wheelchair washrooms are easily accessible off the lobby.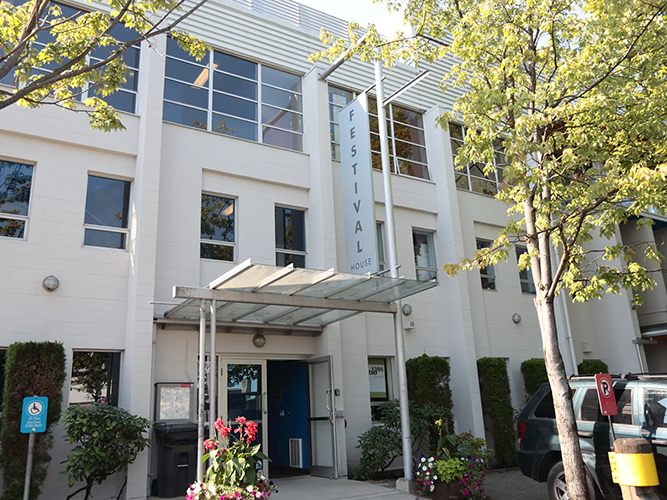 1398 Cartwright St, V6H 3R8
The New Emergent Studio Theatre (The NEST) is an intimate and flexible performance space. It's a black box theatre featuring customizable riser seating and the option to uncover the windows, providing lots of natural light that fills the theatre. Housed on the third floor of Festival House, the NEST is owned by CMHC-Granville Island, and stewarded by the Granville Island Theatre District.
An elevator with a weight grade of 4,000lbs provides access to the third floor studio space, alongside a staircase with sturdy stair-rails. The NEST shares parking with Waterfront Theatre and we recommend arriving early to secure a spot.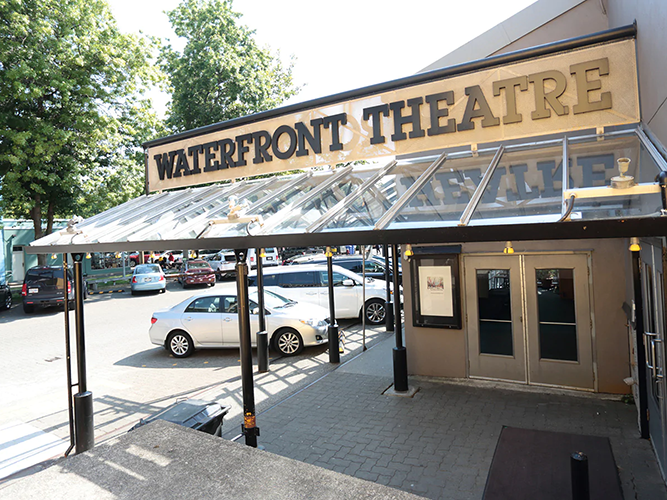 1412 Cartwright St, V6H 3R7
The Waterfront Theatre on Granville Island is located next door to the Kids Market. An intimate, air-conditioned, 224-seat performance venue, the Waterfront Theatre is one of the urban jewels of the Vancouver arts community. Since its transformation from the old Tyee Machinery Building over 30 years ago, the Waterfront Theatre has hosted a myriad of productions.
There is accessible parking at Waterfront, though certain spots are blocked by poles on the passenger side which may prevent cars from opening their doors fully. The washrooms are accessible, however there is a sharp turn into the women's washroom. The flooring is also covered in a non-slip coating.