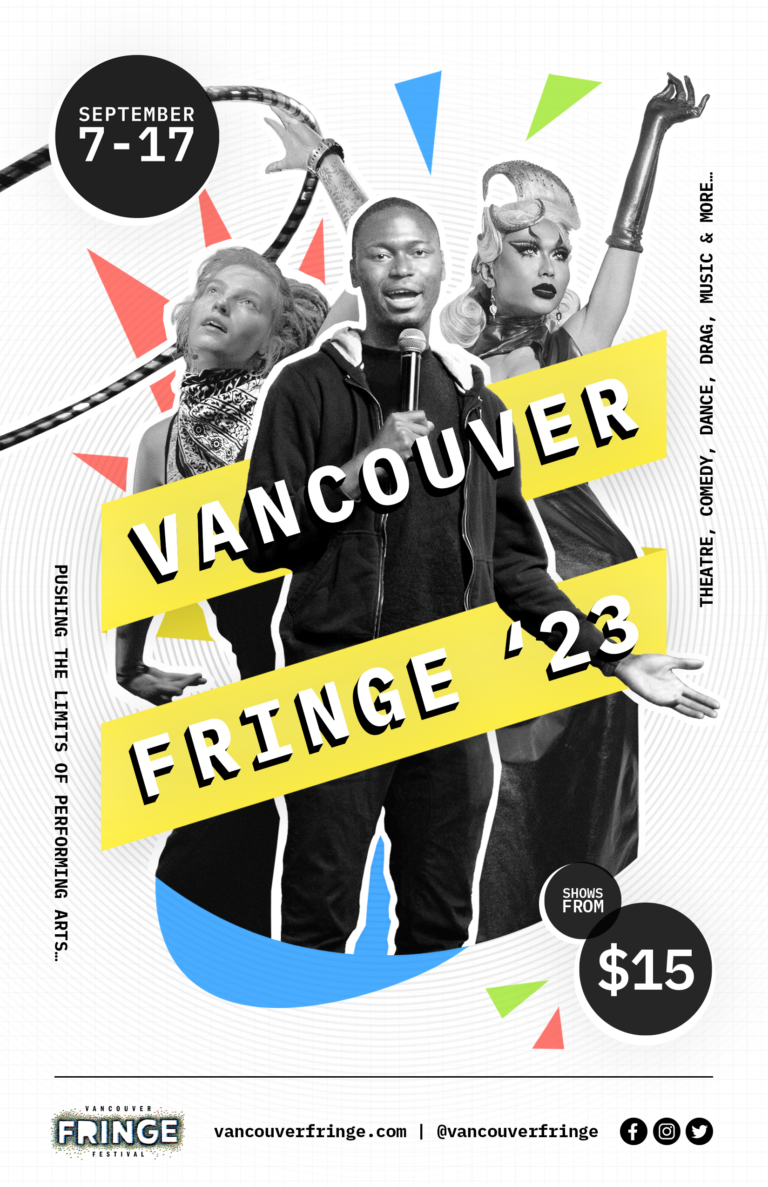 Vancouver Fringe is delighted to unveil this year's key image for 2023. It's been an incredibly exciting build up for us behind-the-scenes these last few weeks and we've massively enjoyed the development and evolution that has brought us to this stage.
This year's artwork seeks to encapsulate the essence of our community and celebrate the diversity of the performing artists we see on stage time and time again. Tasked with this vision, our brilliant Graphic Designer Isaac Hatfield took to the challenge so readily to create an image that playfully explores the full spectrum of artistic experiences awaiting one and all this year. We are so happy to FINALLY give it the big splash it deserves.
Speaking on this year's creative direction, Executive Director Duncan Watts-Grant said:
"I am thrilled to share the new key image that will adorn our posters and  program for this year. This year's Fringe is all about the artists, with the image capturing our commitment to placing artists at the forefront, and our dedication to their creative journeys. The design also reflects our inclusive approach, acknowledging the wide range of performing artists across our Festival. It's a visual testament to our unwavering support for a vibrant arts community in Vancouver."  
After many weeks spent with his head down Photoshop, we can't speak any more highly of Isaac's capabilities – truly channels the spirit of the Fringe, while also pushing forward the refreshed look and feel from 2022. This results in an image that feels fresh, but also familiar.
Elaborating on his work, Isaac shared:
"I'm so excited to share this year's image with the world. My intention was to try and capture the wide array of performing arts that can be seen at Vancouver Fringe and display artists front and centre, while building upon the visual identity of last year. I'm super pleased with how it turned out and I hope that it resonates with both long-time enthusiasts of the Festival and newcomers alike."
Familiar to many fans of the Fringe, you may notice at the centre of our image sits Comedian and previous Fringe artist Ola Dada. Featuring a treated image from our 2019 Festival, Ola's inclusion plays a vital part in embracing the wide variety of experiences audiences can expect – from theatre to comedy, dance, drag, spoken word and more… Though Ola is unable to join us as part of our 2023 Festival Season, he jumped at the opportunity to be part of this year's design.
From the comic marvel himself, Ola stated: 
"In 2019 I had just started stand-up comedy and was overjoyed when I booked one of my biggest gigs at the time with Vancouver Fringe. It is an honour that the image from my show back then has been chosen to be a part of this year's artwork. And, only 4 years on, I'm now recording my debut comedy special on October 14 at Elysium Nightclub (1240 Thurlow St). As a previous Fringe artist myself, I encourage everyone to go see a Fringe show because you never know which up and coming performer you will get to watch live and in an intimate setting!"
To keep in the loop with all his latest happenings, you can follow Ola at @showtime.dada on Instagram and catch his live comedy special here.
So, as the countdown to Vancouver Fringe '23 is well and truly on, we invite you to join us in celebrating the amazing shows that will be taking place in just a few weeks time. Tickets go on sale to Friends of the Fringe on Monday August 21, and general bookings from August 24.
We can't wait to see you there!