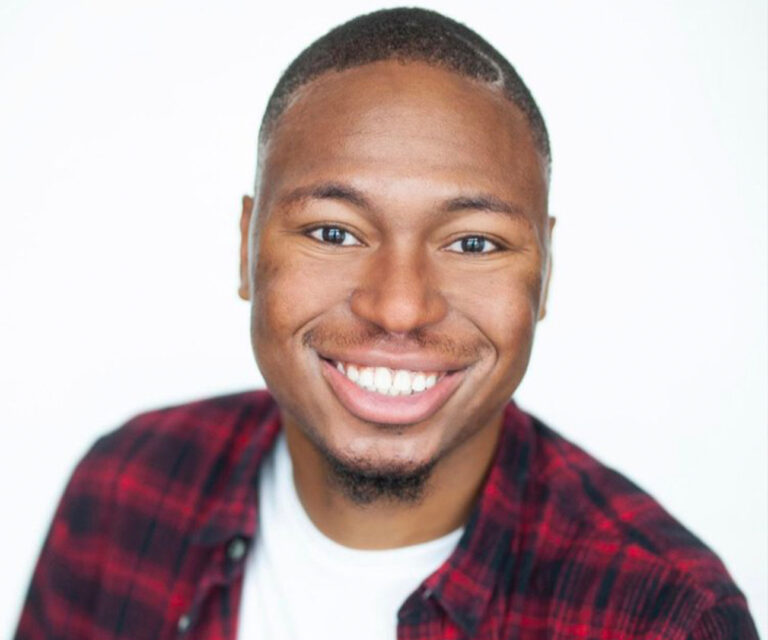 We caught up with professional stand-up comedian Ola Dada to pick his brain about the comedy world. Back in 2019 Ola was one of our favourites at the Fringe and since then he's been featured at Just For Laughs in Montreal, Vancouver and Toronto, and was a semifinalist on Canada's Got Talent.
Ola had a prominent feature on our 2023 Festival Key-Image. Thanks Ola for supporting the 2023 Vancouver Fringe Festival!
1. WHAT INSPIRED YOU TO BECOME A STAND-UP COMEDIAN, AND HOW DID YOU GET STARTED?
All the joy I am gifted to be able to provide to people who come to my shows. I felt I owed it to myself and the people who enjoy my work to give it everything I have, which meant going full time. I started comedy by accident, I walked into a pizza spot with some friends, heard some laughs downstairs so went to check it out. My friends dared me go up and I did! But it was all thanks to the amazing Suzy Rawsome for giving me the opportunity and platform to get me started.
2. WHAT ARE SOME OF THE CHALLENGES YOU'VE FACED, AND HOW HAVE YOU WORKED TO OVERCOME THEM?
The earlier challenges were balancing my school, work, rest and stand up life. I had to get organized with my time . Make a lot of to-do lists and work with Google calendar. I never allow myself to do it "later" – I mostly do it now. Ever since I took my fitness more seriously it helped every aspect of my life. I have a schedule, plan, and by executing them, it helped me overcome challenges I have faced. Most importantly without the support of my family, friends and relationship with God, none of my success would be possible.
3. WHO ARE SOME OF YOUR COMEDIC INFLUENCES OR FAVOURITE COMEDIANS?
Simon King, Ivan Decker, Dino Archie, Chris Rock, Kevin Hart, Godfrey, Roy Wood Jr., Sean McDonnell, Hassan Phills…
4. CAN YOU SHARE A MEMORABLE OR FUNNY MOMENT FROM ONE OF YOUR EARLY STAND-UP PERFORMANCES?
My first TV taping for CBC Gem, my mom had flown from Alberta to Vancouver to surprise me. But the show was sold out so they had to make a special table for her. She was seated right in the front and I didn't even know she was going to be right in the front until I got on stage.
5. WHAT'S YOUR PROCESS FOR CREATING AND TESTING NEW MATERIAL?
I let my content come tome, by experiencing life and being fully present in the moment. I believe the funny will find me. I find a quickest way to tell the joke by using the least amount of words to tell the joke. It's all trial and error but if that works, I incorporate the new joke into my set.
6. HOW DID YOU FIND AND BUILD YOUR AUDIENCE OR FAN BASE?
My amazing and supportive friends told other friends about my work. It's become a word of mouth thing that just keeps growing. I'm really lucky to have really supportive people around me.
7. CAN YOU DESCRIBE YOUR COMEDIC STYLE?
My style is storytelling with unexpected punch twists leaving you on your toes.
8. WHAT ADVICE WOULD YOU GIVE TO ASPIRING COMEDIANS WHO ARE JUST GETTING STARTED IN THE INDUSTRY?
The best advice I ever got is to be honest with yourself. Standup comedy is hardest at the beginning but it will get easier. Watch professional comedians you love -you will learn a lot! Don't run jokes with comedians without asking first, we can tell! No matter what happens on stage, as long as you showed up prepared and tried your best, that's all you could do. There will be another show.
9. ARE THERE ANY UPCOMING SHOWS YOU'D LIKE TO SHARE WITH FRINGE FANS?
I will be recording my live Comedy Special in Vancouver on Oct 14, 2023. Two shows, 7pm and 9pm at Elysium Nightclub, 1240 Thurlow St. I also tour regularly across the country at comedy clubs and at private events! Follow me on Instagram @showtime.dada or reach out if you want me to come to you!
Contact bookings@williamshirschtalent.com
To keep in the loop with all his latest happenings, you can follow Ola at @showtime.dada on Instagram and catch his live comedy special here.