Our helpful navigation guide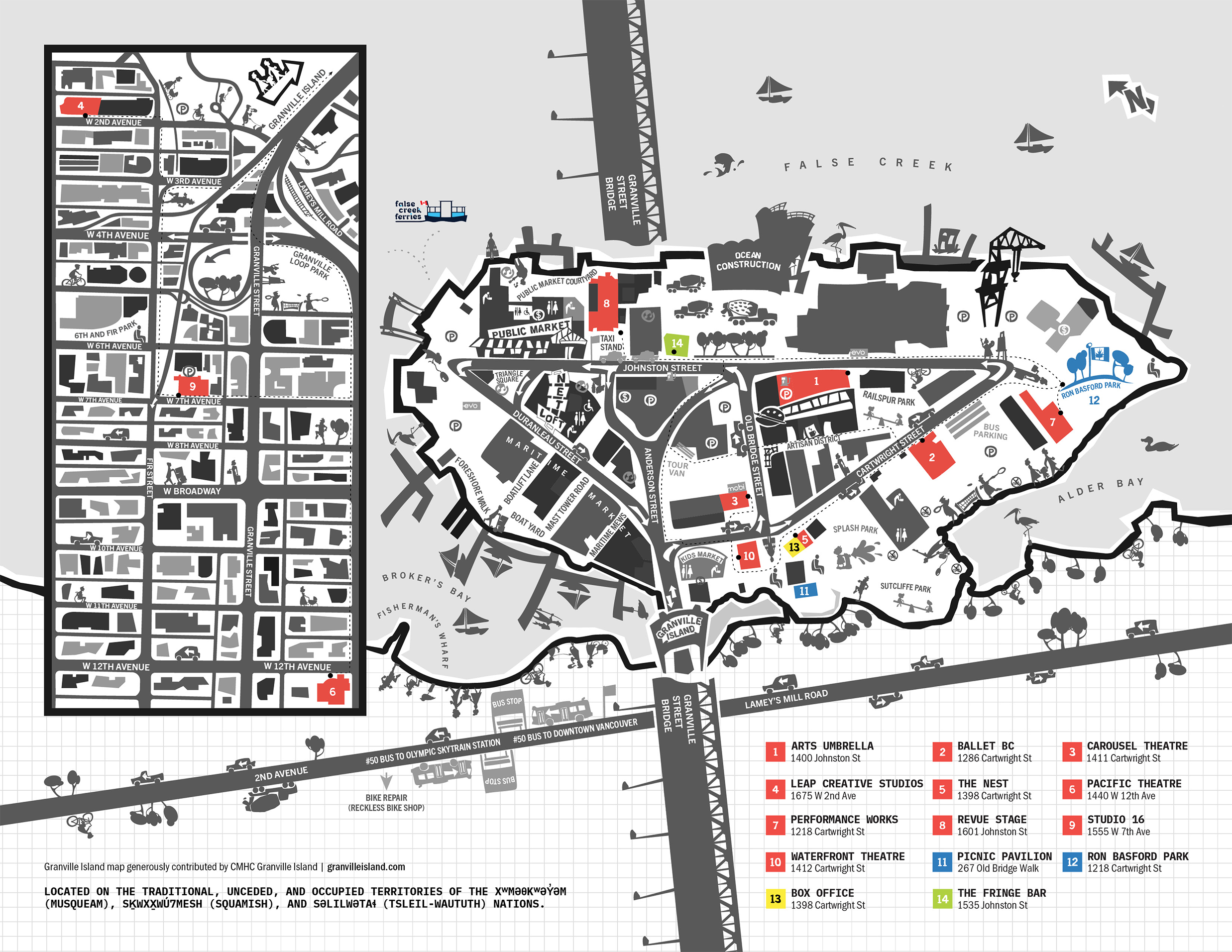 This year, Vancouver Fringe is taking over almost the entirety of Granville Island, with select activity bursting out into the nearby surrounds.
The Fringe Box Office and Fringe Bar will once again reside on Granville Island, alongside all the shops, galleries, bars and restaurants the people of Vancouver know and love. Theatre shows will play throughout the day at on-site venues Arts Umbrella (V6H 3S1), Ballet BC (V6H 3R8), Carousel Theatre (V6H 3R7), Performance Works (V6H 3R8), Revue Stage (V6H 3R9), The NEST (V6H 3R8) and Waterfront Theatre (V6H 3R7).
Site-specific work will be held at the Granville Island Picnic Pavilion (V6H 3R9) and within Ron Basford Park (V6H 4B7), with off-site venues supporting our jam-packed schedule at Studio 16 (V6J 1S1), Pacific Theatre (V6H 1M8) and at Leap Creative Studios (V6J 1H3).
Walking along the Sea Wall path (from all directions) will get you right to Granville Island and our activities at the Fringe.
Cycling is also a quick and easy method to make your way here, with a free cycle valet available in the heart of Granville Island, courtesy of CMHC. Fixed bike parking is also available if you have a dedicated lock.
For returning journeys, taxis are often found outside Granville Island Public Market.
Evos and Modos are also regularly available nearby. Simply login to the apps for detailed location info.
Uber and Lyft similarly service the area, though we courage early drop-off at peak times.
The Fringe is easily accessible by bus. The 50 arrives straight at Granville Island from Waterfront Station, through Downtown along Granville St or from Olympic Village Station. The 84 stops on West 4th Ave and Fir St., a short walk from Granville Island. The 4, 7, 10, 14 and 18 all stop on the south side of Granville St. Bridge, where a short walk through the Granville St. Underpass and across Granville Loop Park will find you at the heart of the Fringe. Be sure to check Translink for the latest routes.
If you own a boat or other water-based form of transport, free 3 hour moorage can be found located behind Granville Island Public Market. Space is limited and available on a first come, first serve basis.
The Aquabus and False Creek Ferries operate from approximately 6:30am – 10:30pm daily. Many Aquabuses are wheelchair friendly, and can also accommodate bicycles. Visit the Aquabus and False Creek Ferry websites for more info.
Metered parking is widely available on Granville Island between the hours of 11am – 6pm, from $3 per hour ($4p/h at the weekends). Parking time can be purchased in either 15 min, 30 min or 1 hour increments through EasyPark. Please note that only select meters accept cash. For those spending a full day on Granville Island, a day pass can be purchased for $21.
After 6pm, parking becomes free without time constraint in most spots on Granville Island.