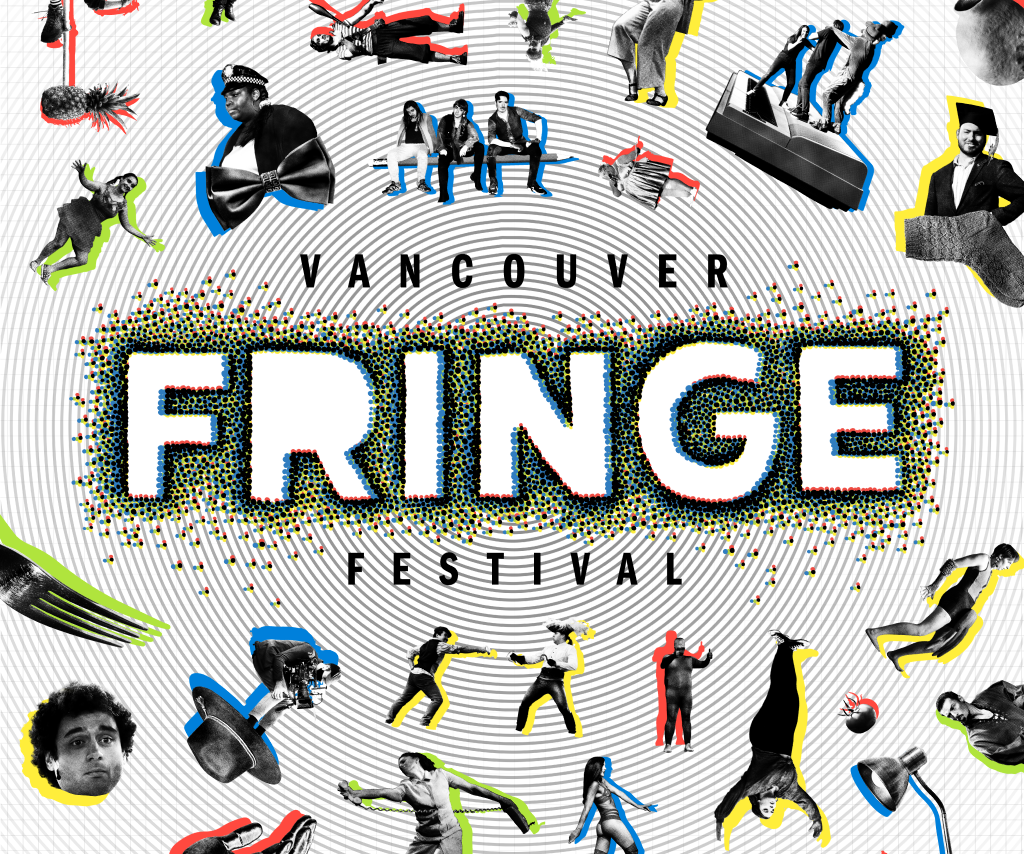 Written by our in-house Graphic Designer, Aman Mathur, we find out all about the thought process behind this year's striking new key image for the 2022 Vancouver Fringe Festival.
As you've probably noticed by now, we've settled on a whole new visual identity for this year's Festival.
There were a few main considerations when making the key image for this year – first and foremost, as we rebuilt the organization and started spinning new ideas, we knew we wanted to move away from the longstanding orange. For those familiar with Vancouver Fringe, orange had been slapped onto all the marketing material for years. Quite frankly, we felt everyone had had enough of it. One thing was certain when designing this year's image; there'd be no trace of orange in sight. In its place, four bold and striking primary colors were brought in to make this year's high-contrast visual identity pop.
Secondly, we wanted to find a design that placed our artists – the lifeblood of our Festival – at the forefront. The Fringe really is nothing without its creatives, and it was important to us that our image properly communicated that. This year, we honor them by plastering the design with an array of our most memorable performances, communicating both our love for artists as well as the insanity our audiences are likely to encounter during the Festival itself. Within the art, you'll find everything from sword fighting to twerking, all circling around the very thing these artists are performing in – the biggest theatre festival in BC!
Controlled chaos was the final idea we wanted the image to evoke. If you've ever Fringed before, you'll know why. The Festival is 11 days of lunacy; with 74 different shows all performed within a one-kilometer radius. For those 11 days, a typhoon of creativity will rage over Granville Island and beyond, and it's this cacophony that we wanted to capture in our artwork for this year. In the eye of this proverbial storm sits the Fringe itself, serving to keep it all together; this is exactly why we chose to have the artists orbiting around our ever-so-slightly updated logo.
So, we had all these ideas for what the poster should evoke, but when it came to actually implementing them, we ran into some hurdles. We felt the logo was getting lost and, as such, the poster lacked a center of attention. Thankfully, our Marketing & Communications Manager had the brilliant idea to fill in the previously transparent logo with white to make it stand out against the poster's grid paper texture (thanks Matt!). We also added a concentric circle effect in the center of the page to make the contrast against the white of the logo even more striking. Once all of that was in place, we were happy enough with the design to call it done!
We think this design does a great job of showing off what's great about the festival: it's bold, captivating and full of life! Come join the festivities this year to experience what we're talking about; you might even spot some of the artists from our key image in person!